Warrior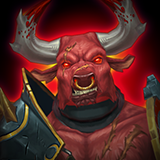 Minotaur
How to acquire:
Rare, Legendary, And Mythic Soul
CHARACTER ABILITIES
Icons
Name
Description

FEROCITY OF FATE(Present Basic Attack)

• Deals random damage to a single target.
• Gain Ascension for 2 turns.
• Inflict Passive Disable and Crave on the target for 2 turns.
• Damage dealt increases based on the enemy's MAX HP.

BRAZEN BULL
(Present Power Attack)
Power Cost: 6

• Deals random damage to all enemies.
• Remove All Immunity effects, including Vanish and Perfect Immunity.
• Inflict Cleave on all enemies for 2 turns.
• 35% Chance for an Extra Turn.

ASTERION PRINCE
(Passive)

Prevents all Counterattack and Revenge effects from the enemy team. Permanently gain +5% ATK, MAGIC, and MAX HP for every negative effect on self every turn. 35% Chance to gain an Extra Turn and a 35% Chance to Remove All Golden Effects, minus Shroud, Perfect Immortality, and Soul Protect, from each enemy after each action if any enemy is inflicted with the Cleave effect.